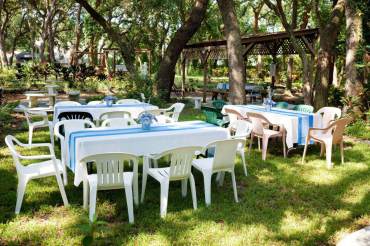 Summer is in full swing, and with it come backyard cookouts, camping trips and picnics. Unfortunately, these outings and get-togethers also include the generation of copious amounts of waste.
Disposable plates, cutlery, cups and paper towels are just a few of the common wastes generated at your typical cookout or party, because we do have to throw that stuff away.
Here are a few tips to help anyone make their gathering green:
Ditch the disposables!
Provide your guests (and yourself) with durable flatware, cutlery, and cups — napkins, too, if you are really dedicated.
If you throw a few gatherings per year, it is worth the investment to buy an inexpensive set of flatware to dedicate to these events. Not only will you significantly cut down on your garbage generation, your guests will appreciate not eating off flimsy plates with plastic cutlery that frequently breaks. My wife and I do this, and use the same set for our camping trips — we just store it in the camper, and it is out of sight and out of mind while not in use.
Drinks = big containers.
Serve beverages in large, self-serve containers and avoid cans and bottles. Most beverage containers are recyclable, but waste reduction is even more powerful than recycling.
If serving beer or wine, purchase growlers, kegs and casks from local breweries and wineries. For soft drinks and juice, source your beverage in larger containers to reduce the amount of waste.
In order to avoid generating a bunch of disposable cups, offer your guests durable reusable cups. I once went to a gathering of other "recycling nerds" – like myself — where everyone was asked to bring their own beverage glass, cup, jar or whatever would hold liquid, and a prize was given for the most unique container. It was a lot of fun and encouraged folks to not rely on disposables at the gathering.
Buy local.
This won't drastically reduce your garbage generation, but it will definitely make a difference "upstream" and give you peace of mind. Locally produced food and drink supports the local economy, isn't transported great distances to get to you, and is often very price-comparable to the major industrially-produced foods.
We are very fortunate here in the West Sound to have a plethora of farmers markets, farm stands and neighborhood markets that sell local produce, meat and other food products. The growing number of breweries and wineries on the peninsula are also a nice bonus.
There are quite a few resources out there that can help on your way to reducing your leisure time footprint. Check out the following websites for more ideas to reduce waste around your home and where you play:
A simple online search on reducing waste around the home will yield even more results.
Now get out and enjoy this beautiful Pacific Northwest summer!