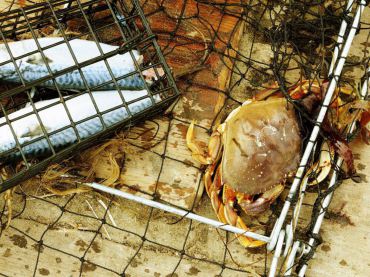 There are reasons those of us living in Western Washington manage to endure the interminably short, gray and damp days of winter and early spring, and for many of us, it's the memory of summers past and the promise of the summer to come.
And let's face it, summer really does begin in July and (hopefully) lasts through August. Fortunately, for those of us with marine inclinations, and especially those who like to pull things out of the sea, July and August offer some of the finest fishing opportunities right in our backyards.
Feeling Crabby?
Where might we begin? Well, summer crab season gets underway in July and can be a relatively low-cost way to start enjoying some of the culinary treasures the sound has to offer.
The basic gear is simple and consists of a crab pot with a length of rope attached and a way to sink your rope (weighted line or clip on weight), some type of bait container that will allow your bait to put off scent but not let the crab ravage it too quickly, and a float attached to your line so you can locate your pot.
Finally, the part of crabbing that may not be so low-cost is the requirement of some type of watercraft to get your pots out there.
Successful crabbing is dependent on a number of factors that include quality of bait, depth and tidal influence on pots, and abundance of crab, which is directly related to angling pressure (or the number of pots in the water and how "hard an area has been hit."
There are two species that crabbers focus on in Puget Sound: Red Rock crab and Dungeness. You will need to review the regulations carefully to determine which days are open and what crab can be retained in your particular marine area. Some marine areas are closed on certain days and there are size restrictions for both species in addition to the requirement that female Dungeness and "soft shelled" crabs must be released.
The WDFW website offers plenty of information on how to identify crab species and gender.
Like many of our regulations, these can be complex and even confusing so when in doubt, either do not fish or consult professionals to be clear on what is legal. "I didn't understand the regulations" is rarely an explanation that will fly with an enforcement officer.
Summer is also a great time for salmon fishing — stay tuned for my next article next week.