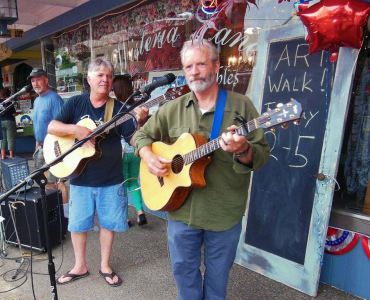 Last summer was a bummer. It seemed that all the Kitsap County gallery walks and festivals were on a first Friday of the month, so attendance was severely divided.
Happy to say, "Not so this summer." My husband, Earl, and I decided to take in Port Orchard's Art Walk, which is the first Saturday of each summer month from 2 to 6 p.m. That included the farmers market, which is every Saturday 9 to 3 p.m.
We got there about 2 p.m. and found a parking spot right in front of Crazy Lady Gallery. Entering, we met a woman buying a large Glen Wilkerson canvas photograph.
From there we walked south, taking in the small, very unique shops. It was sprinkling a bit, but main street Port Orchard has covered sidewalks on both sides, so no problem.
Next stop was Wisteria Lane. Owner Brenda Matheson said she had been in that location for seven years and in the past year or so she has seen a big upswing, with double attendance and happy folks spending more.
It was really fun. I found a great piece of vintage Pyrex, Earl found a top-brand fishing reel for a great deal and then we stopped at Amy's on the Bay for what Earl said was the best burger he's ever had. It was a "blackened blue cheese bacon burger."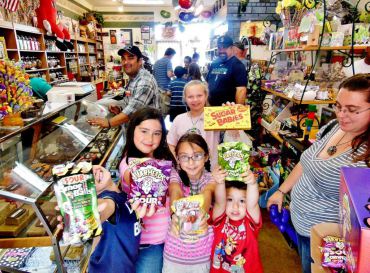 All along the sidewalk, artists and craft persons were set up selling everything from handcrafted writing pens to original paintings. And there was no lack of fun music, with musicians performing on the sidewalk and from outside pubs' arenas.
We stopped in at The Candy Shoppe. It was packed with delighted kids and adults. I got a salted caramel ball and my husband got an all-chocolate one. At first I thought they were a bit expensive, but not so! They were so yummy and rich, I could not even eat mine all at once.
Then after taking in the new Public Market, we got in our car, headed south to Mile Hill and visited a few businesses there.
It was a memorable day and we plan to take in the Port Orchard Gallery Walk next month. But next time we are going to do it later, so as to eat at one of the evening restaurants. We heard the Bistro is excellent.