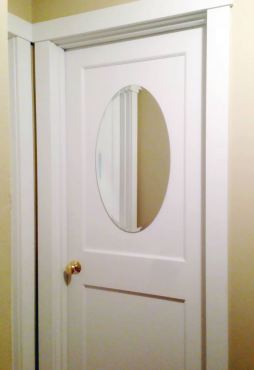 Installing a mirror is easy but it does require a little bit of planning. Here's how to install a full-length mirror on the back of a bedroom door without a fuss.
If the door is solid wood, then metal or plastic clips will work. However, many doors are hollow-core and screws will not hold a mirror to that thin wood skin.
Get special mirror adhesive from a glass shop. Do not use any other adhesive that you might have in your garage. The wrong glue will ruin the silvering on the back of the mirror.
Remove the door from the hinges and put it overnight flat on the bed in a spare room. It takes that long for the adhesive to properly cure and dry.
Squeeze lines of glue over the silvered back of the mirror, but not closer than 2 inches from the edge of the glass. Those 2 inches will allow you to slide the mirror to the right position without fear that the adhesive might leak out and show.
The pattern of the lines is not important. After following the edge on all four sides, fill in the center with random s-curves about 2 to 3 inches apart.
Place the mirror on the door and hold it in place with a few strips of adhesive tape, just to keep it from sliding out of line if the door is not level. That's it — you're done!