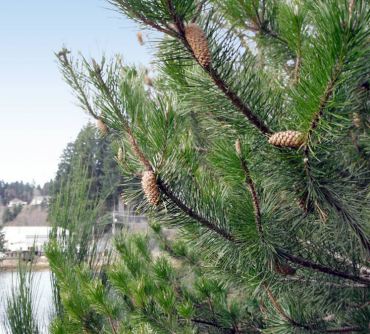 After the terrible Oso landslide tragedy, we received several calls at Woodbrook Native Plant Nursery from people wanting advice on what to plant on their hillsides.
Plants help protect against erosion in several ways. They remove water from the soil and carry it up into their tissues and release it as water vapor into the air (evapotranspiration).
Large trees, especially, can move large volumes of water. Deep roots hold and stabilize several layers of the soil profile. Shallower roots hold the surface soil.
Groundcovers protect the surface of the soil. Vegetation, in general, helps slow runoff and catch sediment as well as helping the soil absorb water and filter pollutants.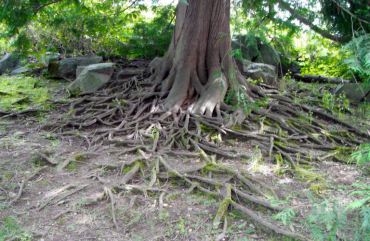 Choosing a variety of appropriate plants is critical for achieving protection and will help to make sure you get both deep roots and shallower roots to hold the soil in place. Shrubs and groundcovers that spread quickly are especially useful.
Although many people are reluctant to give up any of their view, at least a few evergreen trees such as Western red cedar, Sitka spruce, Douglas fir or shore pine should be planted for a larger root mass and greater evapotranspiration rates.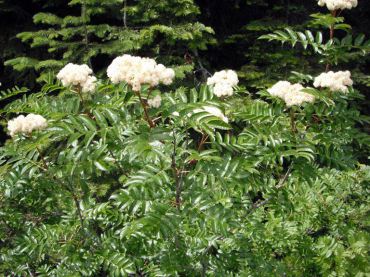 Evergreens also have the advantage of photosynthesizing, growing and transpiring during the winter, when deciduous plants are dormant.
Deciduous trees you may want to consider planting include red alder, Sitka alder or quaking aspen.
Because of the nitrogen-fixing bacteria that live in the roots of alders, they are useful in restoration projects where the soil is poor. Quaking aspens are striking trees with leaves that quiver in the slightest breeze. They often spread by suckers, forming clonal stands or groves.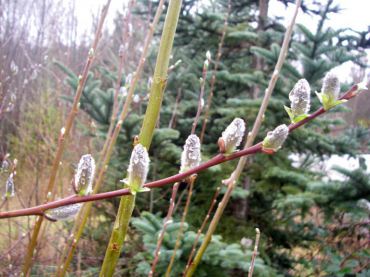 Many shrubby trees are appropriate for hillsides. Willows and red-twig dogwoods have an advantage because they can be planted as "live-stakes," which means that a stem or branch can be stuck in the ground and it will root in place.
Black hawthorns spread readily by root suckers and can create an impenetrable, thorny thicket. Vine maples, mountain ashes, smooth sumac and chokecherries are very attractive growing on a hillside.
Wild roses are also very good for erosion control. Both Nootka rose and peafruit or wild swamp rose are excellent choices. Other appropriate deciduous shrubs include: Saskatoon serviceberry, snowberry, oceanspray, Pacific ninebark and red-flowering currant.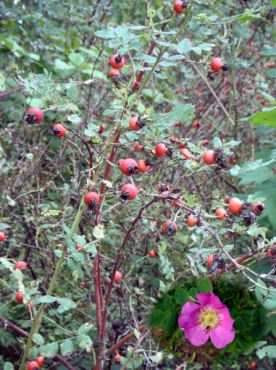 Evergreen shrubs also grow and transpire in winter. They add color to a dreary winter landscape. Pacific wax myrtle and Pacific rhododendron are good choices depending on the conditions. Tall Oregon grape has bronzy-purple foliage fall through spring. Creeping Oregon grape and salal both spread by underground stems or rhizomes.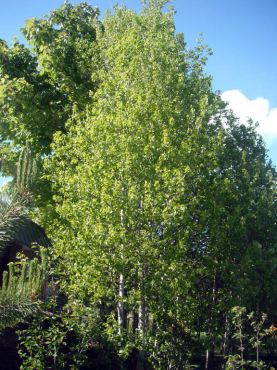 Kinnikinnick, coastal strawberry and silverweed are the best groundcovers for sun. Vancouveria, false lily-of-the-valley and wild ginger, among many others, are good for shade.
Dunegrass spreads quickly, makes good wildlife habitat and is especially useful for seaside plantings.
Some perennial plants such as fireweed, asters, goldenrod, tufted hairgrass and yarrow could be direct sown. Be wary of most wildflower mixes. Few contain seeds of plants actually native to the Northwest and most include some that are considered noxious weeds!
For more plant choices check out my Plant Selection Guides.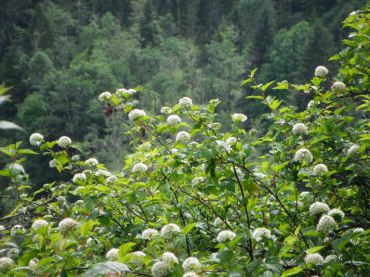 In general, fall is the best time to plant so that plants can grow roots and become established when there is regular rainfall, reducing reliance on irrigation. To prevent further damage to the slope and to avoid working in a mucky mess, it is better to have the installation complete before the rains come.
If you have an extremely steep slope, you may want to consult a professional who specializes in slope stabilization. A jute netting erosion blanket helps to keep soil in place, but makes it a little more difficult for planting. You often can just spread the fiber apart to dig the hole instead of having to cut it.
With luck, your efforts will prevent any future loss of life or property.