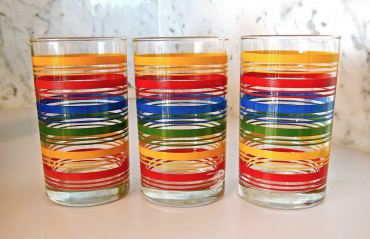 There is a world out there few have entered with a serous mind of awareness.
Always there but never or seldom in our thoughts is the small, utilitarian vessel we call a drinking class. No one pays much mind.
They are pretty, needed, in everyone's cupboard, present at most meals and don't cost that much. In fact, years back jelly or other food products were sold in decorative, clear-glass containers that were meant to be bonus drinking glasses. Free glasses were even in laundry soapboxes and at gas stations with fill-ups.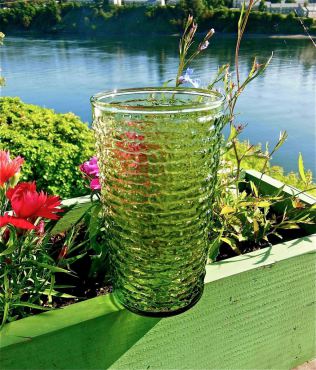 Today it is difficult to find drinking glasses that are made in the United States. Even our all-American Libby drinking glasses are now made in China.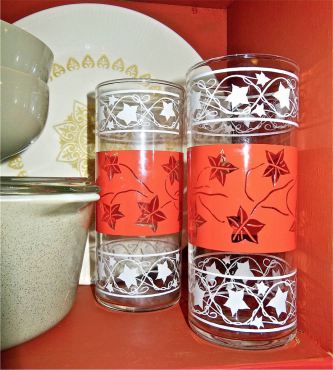 But that wasn't so in those mid-century years when apron-clad Lucille Ball and June Clever rolled out party patio carts displaying fancy glasses with matching pitchers.
Most kitchen glassware then was made in the USA.
Today there is an extreme current direction to anything midcentury. Having a Pyrex Museum that covers cookware from the mid-'40s to the mid-'80s, I am in the middle of the trend. The look is called Kitschy.
Also being a table-setting stager, I use drinking glasses all the time but never gave them much mind. If they matched, they fit.
I have never heard anyone say, "I am buying dinner dishes to match my drinking glasses." Of course not, they're just glasses.
My head must have been buried in the sand while surrounded by drinking glasses. Midcentury drinking glasses are as popular today as ribbons at a bridal shower. Going online, I almost fell off my chair at the variety, beauty and demand.
Having a business that receives walk-in visitors, I began asking folks about drinking glasses, soon to realize everyone had a fond memory. Most remembered were the primary stripe ones and the bumpy gold and green that flooded the 1970s, those Anchor Hocking beauties.
I have a little more respect for those utilitarian vessels.