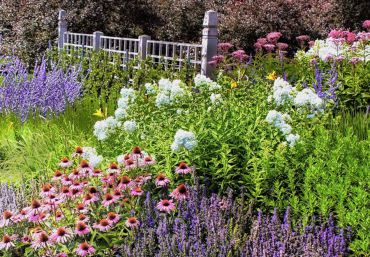 The Hansville Ladies Aid Society Garden Tour on Saturday, July 26, will feature six gardens in the Hansville area.
Each garden has a theme title and signs will be posted at the entrance to the gardens. The theme titles this year are Plant Collector's Garden, Stylized Japanese Pole House Garden, Beach Garden, Garden with Sculpture and Pools, Acred Professional Landscape Garden and Wonderful Perennial Garden.
Tickets to the tour are $10 per person and can be purchased at the Hansville General Store or at Dragonfly Farms Nursery. Each garden also has tickets. Garden locations and a map are printed on the back of the tickets.
A Garden Art Festival is also taking place that day at Dragonfly Farms Nursery.
The Hansville Ladies Aid Society was given responsibility for the Historical Hansville Cemetery on January 11, 1947 and has raised funds each year since to maintain and care for the cemetery. Graves in the cemetery go back to the beginning of the 1900s.
The Ladies Aid Society also provides food baskets for local families in need and funds for other emergency situations in the Hansville area. The garden tour is the organization's main fundraiser.
The tour on July 26 is from 10 a.m. to 4 p.m. Parking is along the road and in or near each of the garden areas.