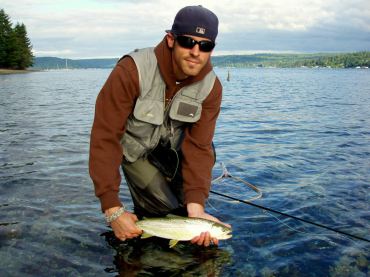 With perhaps only the exception of blue-water, big-game fishing, no other method of angling is as steeped in mystique as fly fishing.
The allure of fly fishing is vast and varied. Some folks are drawn to the almost-meditative qualities of fly-casting, which can be considered an art in itself. Others appreciate the challenge of enticing a fish to take a creation of fur and feathers tied to resemble various quarry. Still other folks appreciate the heightened value of the fish's fight on fly tackle, which requires greater handling skill to efficiently land the fish.
Furthermore, fly fishing frequently takes place in spectacular scenery. And while there can be certain challenges to fly fishing (which, as mentioned, has much to do with the allure), it can also be far simpler to get started than you may think.
To get started fly fishing, the interested novice (whether having previous angling experience with conventional tackle or not) only needs to learn a few basic principles and acquire some key gear components. Beyond that, there is no limitation to the extent the angler may choose to become involved in the pursuit.
What Is Fly Fishing? How Is It Different from Conventional Fishing?
At its core, fly fishing is a method of fishing by which an angler uses a flexible fly rod to propel a weighted fly line with a fly attached to a spot on the water where an angler thinks there may be fish (fly casting).
The use of a weighted line to propel the angler's offering is the primary characteristic that differentiates fly fishing from conventional tackle fishing. In conventional tackle fishing, there is usually some form of weighted lure being cast or some external weight is added to the line if natural baits are being used.
Another primary manner in which fly fishing differs from conventional tackle is in the offering utilized to entice the fish to strike. It is very, very rare that any type of natural bait or natural scents will be added to the fly.
Flies are constructed of natural fur and feathers as well as synthetic materials, and are entirely artificial imitations of naturally occurring foods that fish eat.
What Fly Fishing Options Are Available in the Puget Sound Region and Western Washington?
Anglers living in West Puget Sound are bestowed with a wide array of fly fishing opportunities.
The summer months offers the greatest variety and some of the best fishing. In summer, anglers can fish lakes that range from lowland reservoirs to high-mountain, hike-in only, alpine ponds.
Those looking for a few fish to eat should try one of the numerous stocked lakes in the area. Our westside streams are also open during the summer, offering fantastic scenery and the chance to catch beautiful resident trout. I would caution anglers to release these stream trout, as they may actually share genetics with steelhead or sea — un cutthroat.
Speaking of sea-run cutthroat, these fish are probably one of the greatest assets for fly anglers in Puget Sound. Most people think of fly fishing as predominantly a freshwater pursuit; however, opportunities abound for cutthroat fishing along our miles of shorelines.
This fishery has been catch-and-release only since the late 1990s and remains extremely productive. (Upcoming articles will discuss this superb fishery in greater detail). Additionally, fly fishing from many of the same beaches from which sea-run cutthroat are targeted may also produce coho salmon in late summer and early fall.
Fall, winter and spring also offer anglers additional, more challenging opportunities for salmon and steelhead on the fly.
Free Explore Fly Fishing Seminar
On Thursday, Jun 12, the Gig Harbor Fly Shop in conjunction with The Gig Harbor Waterfront Association will be hosting a free, one-hour Explore Fly Fishing seminar as part of the Waterfront Association's Thursday Night Out program.
The session will provide the necessary information to help interested individuals determine if they are ready to take the plunge and begin the journey to a lifetime of discovery in the fun filled pursuit of fly fishing. Contact the Gig Harbor Fly Shop at 253-851-3474 with any questions.