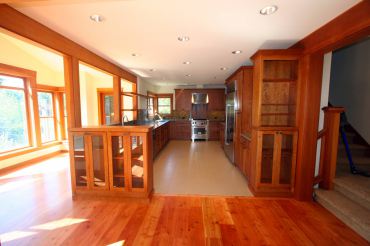 After years of dreaming and planning, you're ready to remodel your house into the home of your dreams. Before you take the plunge, keep these four important mistakes far away from your project.
1. Not fully researching your remodeler
By skipping this step, you can cost yourself frustration, time and money.
Be sure to investigate your remodeler on the state Labor & Industries website, verify license and insurance and talk in depth with references about their projects (what went wrong, how it was handled, whether project was completed on time and within budget).
2. Completing the project in "phases"
Many people think that doing a project in phases will create less disruption in their daily life. The truth is, it won't.
The ongoing parade of workers, noise and dust will slowly drive you crazy. It will also cost you more to phase a job in most cases. Make the effort to be inconvenienced once, and begin enjoying your new space.
3. Not making selections in a timely fashion
There will be plenty of finishes and materials to decide on, which can be challenging. Once those choices are made, you often find out about delays or low stock.
Selections are the No. 1 reason for delay in most projects, so make yours early.
4. Living in the middle of a job site
"How hard can it be, it's only three months" is something many people think. Two words of advice. Move out!
A work zone has areas that are off limits and areas that are masked off for keeping dust down. It's a lot like living out of a suitcase (or in this case, a few big cardboard boxes). Your project will go faster, and you will be happier.
By following these four simple steps, you will make your remodeling project faster, easier and much more enjoyable, leaving you to get back to living with ease in your beautiful new space.