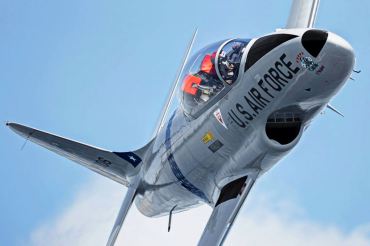 Wings & Wheels is back in Gig Harbor this July and organizers say this popular family event will bring back the same fun as in previous years, and more.
Presented by USAA, the event includes a classic car show, jet car, vintage warbirds, live music and plenty of food.
The Hub at Gig Harbor, which opened last year to much acclaim, will be open and a big part of the festivities, with a special menu and a beer garden to top it off. Various other food and beverage vendors will be on site to fill in what the Hub does not provide.
In the past, the car show attracted more than 150 classic and custom cars. This year, room has been made to allow up to 250. Griot's Garage has provided goodie bags for the first 150 entries. University Place Refuse has donated the use of a music stage, so there will be live music throughout the day.
Bill Braack in the Smoke-N-Thunder Jet Car will return for his fourth year to try to win a race against a warbird. Warbirds scheduled to appear this year are a pair of P-51 Mustangs, a Hawker Sea Fury, Stearman Biplane, T-33 Shooting Star, Extra 300 and a F4U Corsair or two.
Room for for 300 cars on the VIP ramp are available first come first serve for $5. Parking at the south lot is free and a shuttle will be available from St. Anthony Medical Building on Pt. Fosdick, across from Uptown, at no cost as well.
Tickets are $15 for adults 18 and older, $10 for seniors and military ID card holders, $5 for kids 6 to 17. The event is free for kids 5 and under.
When: 11 a.m. – 5 p.m., July 6, 2014

Where: Tacoma Narrows Airport, 1202 26th Ave NW in Gig Harbor

More information: Website • Facebook Page