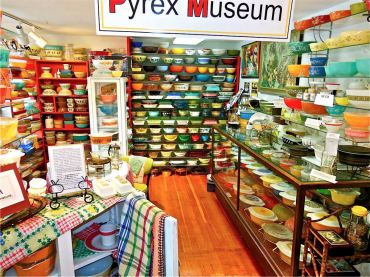 Who would have ever thought that a world-renowned Pyrex Museum could be found in a small Navy town outside Seattle? But Bremerton has captured the hearts of collectors and homemakers around the world with its vintage cookware.
The museum has been featured in two Seattle Magazine articles and on the TV show Evening Magazine five times. It is one of Washington State's listed tourist features.
As a writer for WestSound Magazine for some seven years, I have most often written articles involving color, vintage dishware and design. By accident, Pyrex entered the arena and I was impressed with the imagery and history.
Having an art gallery, I could afford a small public viewing space. It immediately exploded with donations and admiration. I was on a buying spree for the inexpensive casseroles and bowls.
Soon the word got out. Travel writers went crazy. Almost every visitor had a story. I began filming the subject and the Pyrex Museum got bigger and bigger.
I only want one of everything, but still the numbers were huge. By 2013 the monstrous count was well over 1,000 pieces, and folks continue to donate pieces almost weekly.
It is not an official "museum" so there is no tax write-off. I call it an art performance piece, but that is complicated for anyone's mind. It brings little extra revenue to my connected art gallery, so why would I continue with this dust collecting operation?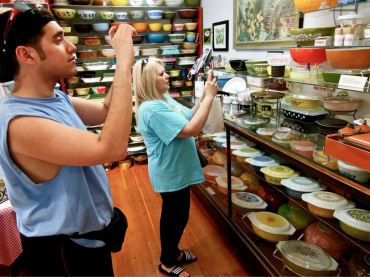 It is fun, rewarding and educational, and makes folks smile, as simple as that. I think of it as an art project.
At this point I consider it to be my contribution to the community, for the notoriety is bringing lots of visitors to town. One person emailed me from Japan, asking about my open hours.
I produce a weekly half-hour TV cable show, "Amy's Pyrex People Reality Show," every Thursday 7:30 p.m. BKAT channel 3 and WAVE Cable channel 3. The Pyrex Museum and Amy Burnett Gallery Facebook page provides information and imagery and receives a lot of traffic from all over the world.
Bremerton has five museums in about a two-block radius and it's fun place to bring your out-of-town visitors.