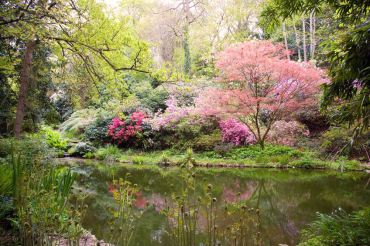 We receive lots of questions at WestSound Magazine about local garden clubs and plant societies and how to get involved or just visit one now and then.
Here's the most complete list we have to date (May, 2014). We've listed websites, addresses, Facebook pages, and meeting times when they were available.
We're sharing it with you and hope you'll check one out. Enjoy.
Central Valley Garden Club
1st Tuesdays at 10 a.m.
Central Valley Community Club
10140 Central Valley Rd NW, Poulsbo
Poulsbo Garden Club
2nd Saturday at 9:30 a.m.
Poulsbo Library
www.poulsbogardenclub.org
Facebook Page
Bainbridge Island Garden Club
2nd Monday at 9:30 a.m.
Bainbridge First Baptist Church
Facebook Page
bainbridgeislandgardenclub.org
Hansville Garden Club (Flotsam and Jetsam)
3rd Wednesday of the month at 9:30 a.m.
Buck Lake Community Center
6778 Buck Lake Rd, Hansville
flotsamandjetsamgardenclub.com
Long Lake Garden Club
3rd Wednesday at 9:30 a.m.
Manchester Library
Evergreen Garden Club
3rd Thursdays at 10:30 a.m.
North Mason Bible Church
Bayshore Garden Club
2nd Wednesday at 1 p.m.
Longbranch Fire Station
Cross Sound District Meetings
Design and horticulture displays are open to the public at no charge at noon
Bremerton West Side Improvement Club
4100 E Street, Bremerton
Patricia Grimes, Cross Sound District Membership Chair
Judy Swortz, Gig Harbor/Key Peninsula area garden clubs Contact
Peninsula Fruit Club
2nd Thursday of each month at 7 p.m.
Sheridan Park Community Center
680 Lebo Blvd in east Bremerton
Facebook Page
Kitsap County Rose Society
2nd Monday of the month at 7 p.m.
Kitsap Fire Station 41
7600 Old Military Road NE, Bremerton 98311
kitsaprose.org
Fuchsia Society
3rd Tuesday at 7 p.m.
Clearbrook Inn
12295 Schold Place NW, Silverdale
Kitsap Dahlia Society
3rd Thursday at 7 p.m.
Crystal Grange Hall
2160 Paulson Rd, Poulsbo
kitsapdahlias.org
New Bainbridge Island Fruit Club
Starting new chapter under the Western Cascade Fruit Society (WCFS)
3rd Thursday of each month from 6 p.m. to 8 p.m.
On June 19 (6-8 p.m.) the BIFC will be holding its first meeting at:
The Grange Hall
10340 Madison Ave NE, Bainbridge Island
For questions, email Darren Murphy at gardendadbi [at] gmail [dot] com.
Master Gardener Foundation of Kitsap County
General board meeting — 1st Wednesday of each month at 1 p.m.
Seminars — selected 3rd Wednesdays at 1 p.m.
See website for dates and locations
kitsapgardens.org
Some of these garden clubs may not meet regularly in the summer.