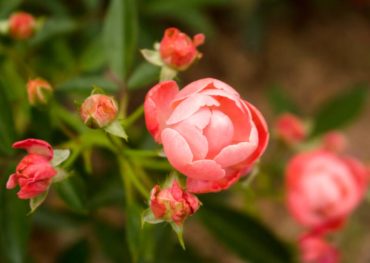 Most gardeners view the same kinds of colors in their garden year after year. You'll see the bright shades of green as well as hints of red, yellow and even orange. It's time to think outside the green box and spice up your garden by using a new shade that's sure to turn heads: living coral.
This color is a muted shade of blended pink and orange — both approachable and pleasing to the eye and making it a perfect colorful addition to your home and garden. Check out these five florals to use Pantone's color of the year in your garden.
Peony: Coral Sunset
You'll find many peonies in the coral family, but one great suggestion is the Coral Sunset variety if you want to match this year's Pantone color. You'll notice this beautiful plant features large blossoms that offer dramatic petals in a showy coral hue.
This plant is also known for grabbing attention in the garden with the prolific amount of blooms it created in late spring. Plant this peony variety in a spot where visitors will notice their fragrance and in groups of other plants that offer a stark coral color to the garden.
Yarrow: Salmon Beauty
Gardeners in the Evergreen State are no stranger to the vibrant coral hues of salmon. Consider adding Salmon Beauty Yarrow to your garden this year. You'll find this plant features hundreds of delicate, coral-shaded flowers, along with multiple shades of blooms that range from dark pink to light pink, with hints of coral in between.
Plant Salmon Beauty alongside a border or walkway for the most attention. You'll see the salmon-colored blooms start to appear in late spring and continue throughout the summer. This plant is also deer-resistant, making it an excellent option for those gardeners on the Kitsap Peninsula.
Dahlia: Bishop's Children
The beautiful single blooms of this dahlia variety have a black center, along with coral-colored petals. Bishop's Children is resistant to mildew, making it a perfect addition to any area garden.
Deadhead the blooms to promote a long-lasting continuous color of coral. This dahlia variety is best when planted outside a window so you can watch the pollinators that will visit it, including butterflies and bumblebees.
Rose: Coral Knock Out
The Pacific Northwest is known for its extensive rose gardens that grow so well in the area. Consider adding a new addition in The Knock Out family of roses in coral. This muted coral color is much like the Living Coral hue and features a lovely shade that will draw plenty of attention.
This rose will display blooms from spring to fall and has an upright rounded growth habit. The Coral Knock Out Rose will mature to about 4 feet tall and wide, so plant in a spot where it can have enough room to continue growing for years to come.
Rhododendron: Coral Wings
Known for its love for the Kitsap Peninsula, rhododendrons can be seen in many cultivated gardens throughout the area thanks to their fantastic growth history in USDA Growing Zone 8. The Coral Wings variety offers a shade of coral that is muter than Pantone's Living Coral.
Use this popular shrub in a sunny or partially shaded spot in the garden where it can grow up to 6 feet high. You'll find the blooms are showy in their appearance and attract bees that help pollinate the garden. The coral blooms will appear during the spring and will continue through late spring or early summer.