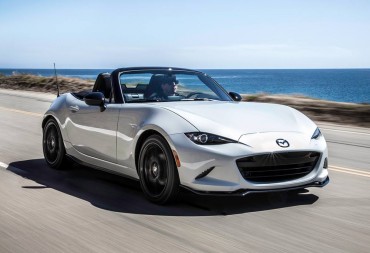 Model Tested: 2016 Mazda MX-5 Miata Club
Engine: Skyactiv-G 2.0 liter 4-cylinder
Transmission: Skyactiv 6-speed manual
EPA Ratings: 27/city — 34/highway — 30/combined
Base Price: $28,600
As Tested: $32,820
Overview: The all-new 2016 Mazda MX-5 Miata returns the Miata to its roots. Completely redesigned and reengineered, the fourth-generation Miata honors the original concept — a two-seat, rear-wheel-drive roadster in the tradition of the classic British sports car.
Interior: The interior is classic roadster — spartan and simple — with the steering wheel and pedals situated directly in front of the driver. Large, analog instrumentation — easy to read at a glance — is positioned horizontally, creating an illusion of space. The prominent center console separates driver and passenger, with Mazda's state-of-the-art infotainment system's 7-inch touchscreen mounted above the dash. Round air vents and climate controls finish off the classic roadster styling.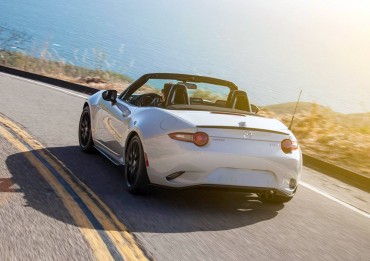 Technology includes hands-free Bluetooth phone, awesome nine-speaker Bose audio and steering wheel controls, along with the requisite push-button start, power windows and mirrors and remote door locks.
Behind the Wheel: This is the best-driving Miata ever. I've driven both the Club and Grand Touring versions and loved them. The chassis is evenly balanced, making handling very predictable — the car does exactly what you expect, including 0-60 in six seconds.
Wow Factors: At the Northwest Automotive Press Association's Run to the Sun event, I drove the Grand Touring version from Seabeck to Dewatto Park — perhaps the most pure driving fun I've had since driving the 2015 Miata from Longview to Vernonia, Ore., and back.
Whines: While not underpowered at 155 horses, more torque would be welcome.
Bottom Line: The all-new Mazda MX-5 Miata is an E-Ticket ride, while still suitable as a daily driver. Personally, I'd buy this car in a New York minute — and just may.