Model Tested: 2016 Honda HR-V 5-door
Engine: 1.8-liter SOHC i-VTEC 4-cylinder
Transmission: Continually variable automatic (CVT)
EPA Ratings: 27/city, 32/highway, 29/combined
Base Price: $25,840
As Tested: $26,720
Overview: The 2016 Honda HR-V is an all-new subcompact crossover SUV based on the versatile Honda Fit. It's one size smaller than Honda's popular CR-V and features a coupe-like look with the usefulness of a minivan.
The interior is clean and well thought-out for practical functionality. Versatility is the HR-V's strongest attribute, with thoughtful design to maximize space and comfort. The roofline is slightly curved, allowing for more headroom, while rear passengers have plenty of hip and leg room.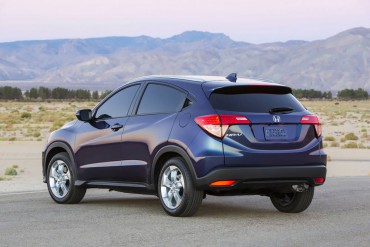 All models are powered by a 141-horse, 1.8-liter four-cylinder that delivers 127 pound-feet of torque. Front-wheel drive is standard, all-wheel drive optional. Most models come with a continuously variable transmission (CVT) but a six-speed manual is available with front-wheel drive. The CVT achieves better fuel economy but seemingly lacks intestinal fortitude when putting the pedal to the metal.
Comfort: The 2016 Honda HR-V is reasonably comfortable to drive and very maneuverable but not particularly sporty.
Utility: Many features that showcase the HR-V's versatility are borrowed from the Honda Fit, including a 60/40-split rear seat that folds completely flat or flips up to accommodate taller items. Whether the seats are up or down, the rear cargo area is square and flat, offering plenty of space and easy access.
Wow Factors: Once again, pure versatility and thoughtful design.
Whines: More road noise than some other vehicles in this class and size.
Bottom Line: The HR-V is an attractive choice in the entry-level crossover segment. Lacking the sportiness of some other newcomers, it offers the proven versatility and reliability for which Honda is known.