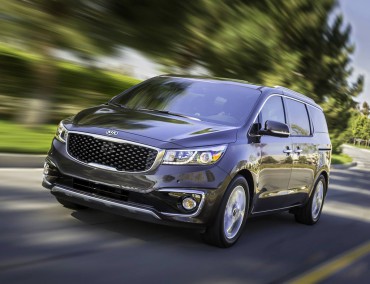 In response to the growing popularity of crossover utility vehicles (CUVs), it's no secret that the minivan market has shrunk considerably the past few years, and there are now three fewer minivans available. Conversely, Kia has uncovered that almost as many empty nesters buy minivans as young families. Accordingly, Kia has reinvented its venerable Sedona as a "multipurpose vehicle" aimed at what it calls "bimodal buyers."
It's easy to understand why minivans are popular with growing families — and baby boomers seem to enjoy the extra seating capacity and easier rear seat access via sliding doors for grandkids or to accommodate friends with limited mobility. And like crossovers, there's large, flexible luggage and storage space.
Model Lineup: Safety features on all models include dual front airbags, front side-impact airbags, full-length curtain, antilock brakes, electronic stability control, traction control, brake assist, electronic brake distribution and active headrests. Optional features are vehicle stability management, lane-departure warning system, forward-collision warning system and front and rear sonar.
The Sedona L comes with A/C with front and rear controls, YES Essentials fabric upholstery, seven-passenger seating, Slide-N-Stow second-row, third-row sinking seat, third-row 60/40 split folding seats, cruise control, power door locks with remote keyless entry, AM/FM/CD with MP3, four speakers, satellite audio, USB, Bluetooth, backup warning system, tilt/telescopic steering wheel, 12 cup holders, three 12-volt power outlets, manual tailgate and sliding doors and 17-inch alloy wheels.
Sedona LX upgrades include an eight-way power driver's seat with two-way adjustable lumbar, six-speaker audio, UVO2 eServices and TMU with rearview camera and auto light control, second row and liftgate privacy glass, power-folding outside mirrors, roof rails and upgraded exterior lighting.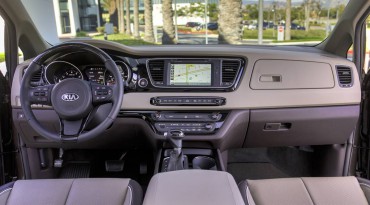 The Sedona EX adds tri-zone automatic A/C with filtration, eight-passenger seating, auto-up/down front and rear windows, smart key with push-button start, leather-wrapped steering wheel, dual glovebox with cooling feature, upgraded interior trim, instrument cluster, exterior lighting, heated mirrors, wiper deicer, power sliding doors, smart power liftgate with sensor, upgraded exterior trim, Homelink garage-door opener, 18-inch alloy wheels and fog lights.
Sedona SX adds navigation, eight-speaker Infinity audio, electric power steering (hydraulic steering is standard), seven-passenger seating, four-way adjustable lumbar for driver, eight-way power front-passenger seat, heated and ventilated front seats, heated second-row seat cushions, seating memory, upgraded meter cluster, blind-spot detection with rear cross traffic, console-mounted 110-volt power inverter, vehicle stability management system, premium wheel finishes and LED taillights.
Sedona SX Limited adds Nappa leather upholstery, seven-passenger seating with first-class lounge seating (eliminates Slide-N-Stow), wood-trimmed and heated steering wheel, premium headliner, second-row floor console, front and rear sonar sensors, chrome outside door handles, unique grille, front and rear panel trim, aeroblade windshield wipers, dual sunroof, SUS door step and transverse trim and 19-inch chrome alloy wheels.
Options include convenience, 8-passenger, premium, technology and rear-seat entertainment packages.
Walkaround: The 2016 Sedona is 1.6 inches longer than the previous version, and like most big crossovers, features short front and rear overhangs. It has an aggressive face for a minivan, featuring a prominent version of Kia's new signature grille. Large headlamps and LED positioning lights complement the slotted bumper with end panels mirroring the grille. Fog lights on the side edges of the bumper on the upscale models and a bash plate under the bumper panel round out the Sedona's CUV look.
The Sedona's profile showcases a slightly wedged greenhouse, steeply raked windshield and rear side glass shapes attempting to minimize that boxy minivan look. Muscular wheel well openings and attractive wheels give the Sedona a sporty-looking stance.
A standard roof spoiler, angular rear window glass and asymmetrical lights diminish the essentially rectangular look, while an underbumper guard adds to the CUV illusion.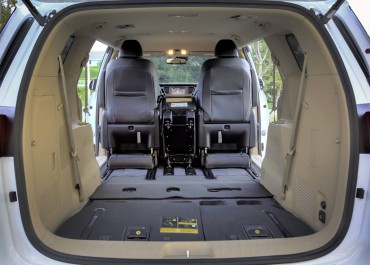 Interior: Comfort and ease of access rack up game-changing points for the Sedona. Although largely unchanged dimensionally, the interior delivers more interior space and an elevated, CUV-like driver's seat that's roomy and supportive, and offers a great view of the road. 2016 Sedona models come standard with YES Essentials antimicrobial, antistatic fabrics for protection against spills and shock.
Instrumentation has a horizontal, symmetrical focus, featuring two large gauges with slash-cut tubular housings inclined toward the driver, while the gearshift has been moved to the center console. The Sedona is also the first Kia vehicle to offer the company's UVO3 telematics package, which features various eService applications as well as access to Pandora, iHeart Radio and Yelp.
Access to the center row is easy via wide, power sliding doors. The first-class seats featured in the Sedona SXL could double as your living room recliners — they're just as comfortable. In spite of the center row and fairly high floor, access to the third row isn't too difficult. However, like with most three-row vehicles, the low headroom suggests the third row is best suited to kids or small adults.
The seating arrangement is flexible depending on trim and options selected. The SXL model I drove had the second-row, first-class, two-recliner-seat arrangement, but a bench seat setup is also available for eight-passenger capacity.
Under the Hood: All 2016 Kia Sedona models are front-wheel drive, and feature the same 3.3-liter direct-injection V6 under the hood of the Cadenza and Sorento, boasting stronger power and torque characteristics than the 3.5-liter V6 it replaced. It's married to a 6-speed Sportmatic automatic transmission and delivers 276 horses and 248 pound-feet of torque. All-wheel drive is not available. EPA fuel economy ratings are 18/city, 24/highway for a combined rating of 20.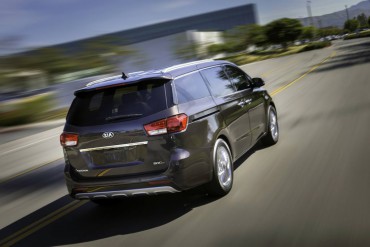 Behind the Wheel: I initially test-drove the Sedona on a variety of roads around Orange County, Calif., at the media introduction event, and then again during a local, weeklong test drive. Due to a holiday scheduling anomaly, I ended up driving the Sedona for almost two weeks.
My Sedona SX Limited offered both refinement and poise thanks to the compliant suspension and improved torsional rigidity that kept the ride well-controlled, quiet and comfortable.
Even at an aggressive pace driving the hilly, winding Ortega Highway, and again over Snoqualmie Pass in the Cascade Mountains and the back side of Hood Canal on Highway 101, quick back-and-forth turns were accomplished without roll or wallow. Acceleration is respectable for a 2-ton minivan with a 3.3-liter powerplant. In a vehicle designed to transport seven people in comfort, that's a very noteworthy achievement.
Whines: The electronic steering is somewhat light and numb on center for my taste but the Sedona responds accurately.
Bottom Line: The 2016 Kia Sedona offers compelling value in a shrinking market segment. Yes, there are cheaper minivans. But they aren't as well-equipped as the base Sedona L, so equipment-based price comparisons give the Sedona a strong advantage. I have an automotive writer friend who, like me, drives most of what's available — and he bought one. Perhaps that's because overall, it's the best vehicle — and the best value in this segment.