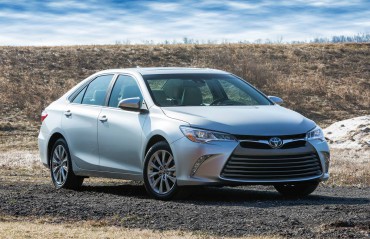 When Akio Toyoda became president and CEO of Toyota, one of his very first public pronouncements was, "Toyota will build no more boring cars." So far, he's been a man of his word. The 2014 Avalon — the first built under his regime — was a radical departure from what had basically been Toyota's interpretation of your father's old Buick Lesabre. And while it continued boasting Toyota's legendary dependability, under Toyoda's tutelage, the Avalon became a stylish, technology-laden, enhanced-performance version of its former self.
The same can be said of the Camry — which in my view was the undisputed world champion of automotive tedium. It was Toyota's equivalent of the old Ford Granada — only not quite as stylish. Yes, it's comfortable and dependable, with lots of amenities. The Camry has earned 32 years of success by relying upon Toyota's long-established formula of reliability, value and strong resale. For a baker's dozen of years, it's been the best-selling car in America.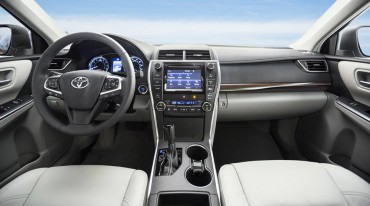 So why mess with success? If it's not broke, don't fix it. Right?
Not exactly. Dependability and reasonable comfort no longer guarantee success in an industry where competition is fierce, change is relentless, and any automaker that gets caught behind the style and technology curves will pay for it. In spite of its stellar reputation, the bottom line is, the Camry was boring to both look at and drive.
Redesigned a mere three years ago, at Akio Toyoda's behest, the king of bland was back on the drawing board for model year 2015. Let's be clear — Toyota isn't saying the 2015 Camry is all-new. It isn't. Aside from a slightly wider track, everything under the sheetmetal — including the three powertrain options — is unchanged.
Model Lineup: The 2015 Toyota Camry comes in a broad range of trim levels with a choice of powertrains. Camry comes standard with a 2.5-liter, 178-horsepower, four-cylinder engine; and 6-speed automatic transmission with manual shift mode. Camry XLE V6 and XSE V6 models are equipped with a 268-horse, 3.5-liter, V6 powerplant. Camry hybrid models utilize Toyota's proven Hybrid Synergy Drive, gas-electric powertrain.
Camry LE features cloth upholstery, eight-way power driver's seat with power lumbar, air conditioning, analog tachometer and speedometer with a 3.5-inch black-and-white information display between them, tilt/telescopic steering column, power up-down front windows, heated side mirrors, Toyota's proprietary Entune app suite, AM/FM/CD audio, USB port, 6.1-inch touch-screen secondary controls with voice command, Bluetooth, 12-volt power outlet, halogen headlamps, chrome grille, rear view camera and 16-inch steel wheels.
Camry SE upgrades to Softex upholstery, digital instrumentation, 4.2-inch TFT color info display between the tach and speedometer, tire pressure monitor, black mesh grille, slightly firmer suspension tuning and 17-inch aluminum alloy wheels.
Camry XLE offers leather trim seats, heated front seats, dual zone climate control, four-way power-adjustable front passenger seat, Entune Audio Plus multimedia, LED daytime running lamps, chrome grille and 17-inch chrome alloy wheels.
Camry XSE comes with leather-trim sport front seats with ultrasuede inserts, black mesh grille model, firmer suspension tuning and 18-inch aluminum alloy wheels.
Camry XLE V6 and Camry XSE V6 add Entune Premium Audio with 10 speakers, 586-watt JBL; navigation; 7-inch, touch-screen center display; LED headlamps; power moonroof; and wireless charging for mobile devices.
Camry Hybrid LE, Camry Hybrid SE and Camry Hybrid XLE trim levels are equipped similarly to the gas-powered models.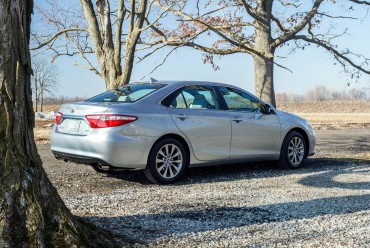 I drove the gas version of the Camry XSE and the XLE Hybrid back-to-back for a week each, and this review will focus primarily on those vehicles.
Walkaround: Toyota's designers have gifted the Camry with exactly what's been missing — eye-catching character. While nothing much has changed under the sheetmetal, with the exception of the roof, every exterior panel on the 2015 Camry is new. There are two new grilles to visually define the L and S versions, creases in the hood, strong character lines in the side panels, new colors, new wheel styles — including 18-inch alloys on the XSE — and LED daytime running lights. While the Camry has never been a styling leader, for the first time ever, the 2015 Camry at least rates a second look.
Overall length has been increased slightly and the stance widened, giving the Camry a more athletic look, particularly in the XS and XSE editions, with their aggressive-looking mesh grilles. The 2015 Camry LE and 2015 Camry XLE have a new three-bar grille. Depending upon trim level, you might even consider the look a bit bold — especially in the context of the timid styling Camry is famous for.
Interior: Inside, just about everything is new and every surface has been improved. Upholstery has been upgraded across the board and there's barely a trace of hard plastic anywhere, with most surfaces covered with soft-touch material. The redesign includes some very fancy stitching with French seams that enhance the seats in the up-level XSE and XLE trims.
The engineering that went into the new body shell included additional spot welds around the door openings and the cowl, resulting in improved chassis rigidity. There's also more sound insulation, and the combination results in a Camry as quiet as many higher-end luxury sedans.
The redesigned instrumentation includes a new thin film transistor (TFT) display nestled between the tach and speedometer, 3.5 inches and black and white in the basic LE, 4.2 inches and full color in higher trim levels. LE dashboards have a 6.1-inch touchscreen display, while upper trim models get a 7-inch screen.
Toyota's Entune multimedia system upgrades the Camry in terms of voice recognition and infotainment, with Bluetooth streaming, and a suite of apps that add connectivity to everything buyers demand today. There's also several audio options including an excellent 586-watt JBL sound system and a new center console system that allows wireless recharging of mobile devices like smartphones.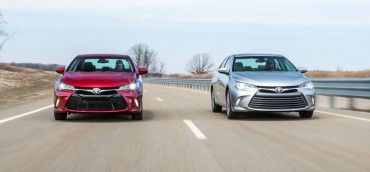 The Camry's strengths have always been smooth powertrains, ride quality and quiet comfort, and this update improves upon those assets. The cabin is seemingly as quiet as its sibling Lexus at all speeds, and the improved suspension makes minor road irregularities smoother.
Under the Hood: My test model XSE came equipped with the 3.5-liter DOHC 24-valve V6. It features port fuel injection and is rated at 268 horses with 248 pound-feet of torque. It's EPA-rated at 21/31 mpg city/highway or 25 mpg combined. It's married to a 6-speed, ECT-1 automatic with paddle shifters.
Camry hybrid models feature Toyota's Hybrid Synergy Drive, which combines a 2.5-liter DOHC 16-valve inline four-cylinder engine with port fuel injection with a permanent magnet AC synchronous motor. The engine is rated at 156 horses and 156 pound-feet of torque, while the electric motor is rated at 141 horses and 199 pound-feet of torque from 0 to 1,500 rpm. Their combined output is rated at 200 horsepower. Hybrid models use a continuously variable transmission. Camry Hybrid SE and XLE are rated at 40/38 mpg or 40 mpg combined.
Behind the Wheel: With the redesigned Camry, Toyota hopes to elevate expectations of its fun-to-drive factor. There have been some suspension tweaks and chassis stiffening on the sportier XS and XSE models. I wouldn't go so far as to say they are actually sporty and compelling to drive but the reality is, they are more so than any previous Camry.
Handling distinctions between the sportier models and the mainstream versions are subtle; however, my XSE delivered decent power, with the 6-speed automatic as smooth as anything in its class.
The Camry hybrid has a smooth ride and responsive powertrain. Acceleration was smooth whether in all-electric or gasoline mode. The brakes, which generate electricity whenever used, were the smoothest I have experienced in a hybrid.
Whines: The electric power steering conveys very little feedback to the driver.
Bottom Line: Toyota's cosmetic overhaul of the 2015 Camry is a welcome change from the bland anonymity that has long been the Camry's signature. The interior upgrades — even in the standard LE trim level — are a vast improvement, and the XS and XSE now boast a sporty persona completely foreign to the past Camry.
The combination of a bolder, stylish exterior; upgraded interior and Camry's traditional strengths and strong resale make it a great value that should keep this solid sedan at the top of the sales charts, and makes good on Akio Toyoda's promise of "no more boring cars."