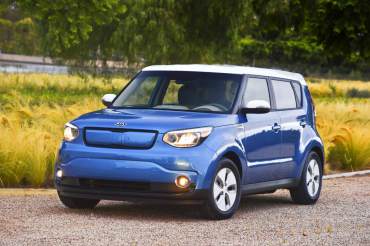 By now, just about every mainstream auto manufacturer has introduced an electric vehicle (EV). The latest in this parade is Korean automaker Kia, which recently debuted an EV version of its charmingly hip, offbeat Soul crossover.
Although totally electric cars make up a minuscule percentage of U.S. auto sales, increasingly tough EPA fuel economy standards are pushing more and more carmakers into the EV market. This is Kia's first pure-electric offering in the United States.
I had an opportunity to drive the Soul EV, along with the new Sedona multipurpose vehicle — the new moniker for minivan — in the Coastal California environs around Dana Point.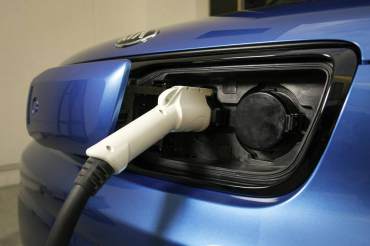 The basic specs for the electrified Kia Soul are typical of most contemporary EVs, with Kia claiming an operating range of 93 miles between charges — second only to the Tesla Model S.
The Soul EV has three charging ports, including Level 1 and Level 2 ports for AC charging, as well as a 480-volt DC fast-charging port — the standard for public charging systems, which are steadily becoming more widespread. Using a 240-volt, 50-kW quick charger, full charging takes five hours but will bring the batteries to 80 percent charge in as little as 33 minutes. The 480-volt public systems will totally recharge fully depleted batteries in about 30 minutes or less, while it takes around 24 hours using standard 120-volt household current.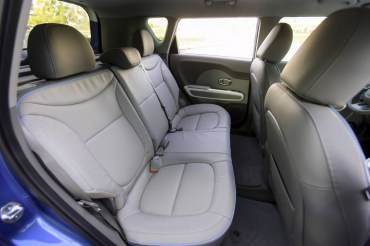 An optional 240-volt home charger can be purchased through local Kia dealers and owners have a choice of three charger suppliers: Bosch, Leviton and AeroVironment. Kia dealers who sell Soul EVs will also offer free recharging to their customers.
Walkaround: The Soul totally nailed that ultra-cute, five-door, box-on-wheels design pioneered by the Honda Element and Nissan Cube — both of which are now history while Soul sales continue to climb. From most angles, the Soul EV looks a lot like the gas-powered model. The differences are very subtle — for example, a larger, tiger-nose sliding grille hides the charging ports.
The Soul EV debuts with four color choices: Caribbean blue body with clear white roof, shadow black body with "inferno red" roof, titanium gray and clear white. The signature two-tone theme is exclusive to the EV and was inspired by Kia's concept Track'ster. Other unique exterior design features include color accent trim in the front and rear fascias, projector headlights, LED positioning lamps and LED tail lights.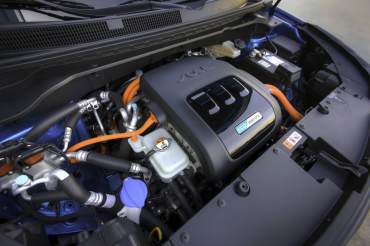 "Eco Electric" badging replaces the "Soul" fender trim found on the gas-powered version, and the Soul EV gets its own set of distinctive 16-inch alloy wheels rolling on specially engineered, super low rolling resistance (SLRR) tires that help improve range.
Interior: The latest version of the gasoline-powered Soul made tremendous strides with improved cabin materials as well as ride and noise levels. Since there is no internal combustion engine noise, the Soul EV is even quieter — exceptionally so for a vehicle this size, with only slight traces of road and wind noise.
Setting the interior apart from its gasoline-powered sibling is the use of recycled materials and extensive use of bio-based organic materials — 52.7 pounds worth in the interior plastic alone — along with BTX-free paint on the audio system surround, vent bezel and the floor console. Bio-based plastics derived from cellulose and sugarcane include the door panels, headliner, seat trim, roof pillars and carpeting. Organic, bio-based materials are used in 19 different interior locations.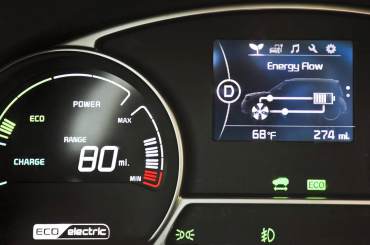 Another differentiation from the gas-powered Soul is bright-white accent trim on the center console, instrument panel and door panels, adding a light, spacious feel to the passenger space. The seats are quite comfortable and the EV-only digital instrumentation is crisp and easy to read.
Kia's newest version of its UVO infotainment system makes controlling media and other functions easy via the standard 8-inch, capacitive-touch navigation screen. It includes downloadable apps, such as Yelp, iHeartRadio and Sound Hound. To combat range anxiety, there's also an app that pinpoints recharging stations.
Under the Hood: The Soul EV is powered by a liquid-cooled AC synchronous permanent magnet electric motor rated at 109 horses and 210 pound-feet of torque. The motor sends power to the front wheels via a single-speed, constant ratio transmission.
Located beneath the floor, a 360-volt, 192-cell, 27-kwh, air-cooled, 200 watt-hour/kg, lithium-ion polymer, gel-electrolyte battery pack feeds the motor. It reduces rear seat legroom by just over 3 inches from the gas model, while the standard 120-volt charger, which stows under the cargo floor, takes a 5.1-cubic-foot bite out of luggage capacity, reducing it to 19.1.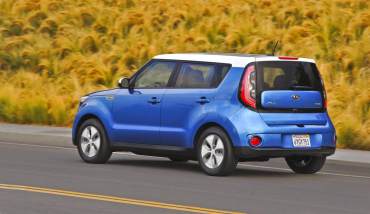 Behind the Wheel: In spite of Soul's added weight due to the batteries, like all EVs, the instant torque delivered by an electric motor means acceleration is quick. Chirping the tires from a dead stop doesn't take much, and while the 0-60 time isn't going to set any records, the initial burst of power off the line is enough to make cruising around town more fun than you might think.
Kia enhanced the Soul's structure to accommodate the battery weight, claiming a 5.9 percent increase in torsional rigidity. Because of the battery location, the center of gravity is lower than the gas model, so the EV also handles a bit better. Neither Soul — gas or EV — is really meant for aggressive driving but I drove it harder than normal and have to admit I came away impressed with its handling. The electric power steering is a little heavy but responsive to quick maneuvers.
Like all EVs and hybrids, coasting and regenerative braking are important to stretching battery life. The Soul has two operating presets — eco on and eco off, with drive and brake modes for both. According to Kia, brake mode in the eco on setting can add as much as 12 percent recovery of the car's kinetic energy — which translates into battery replenishment.
Whines: The initial rollout for the Soul EV will be limited to California, Oregon, New York, New Jersey and Maryland.
Bottom Line: EVs have progressed tremendously in the past few years, but unless you live in the city and never take road trips, an EV probably won't be your primary vehicle. However, for a commuter or someone who wants something green for errands and grocery runs, the Kia Soul EV is a genuinely solid vehicle that's sensible, sustainable and downright fun to drive.