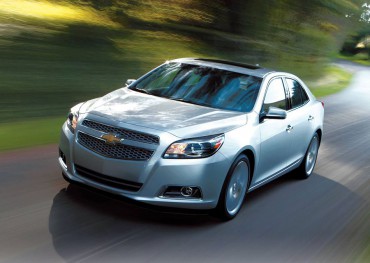 The 2013 Chevrolet Malibu is all new — inside and out — for 2013. The benefits of its more aerodynamic styling are better fuel efficiency thanks to a drag coefficient of about 0.29 — among the best in the industry — and a quieter ride. It blends a smooth ride and that quiet interior with responsive handling, effective crash-test performance and outstanding build quality that holds its own against the Toyota Camry and Honda Accord — the midsize sedan segment's benchmark competitors.
Chevrolet claims the safety package on the new Malibu includes the stiffest, strongest body in the class, eight standard air bags with rear side bags optional, and five-star NCAP crash performance in all markets around the world.
Built on the same platform as GM's Opel Insignia, Buick LaCrosse and Buick Regal, Chevrolet says the new Malibu will be sold in as many as 100 countries, with additional engines and hybrid versions to be offered later on.
Model Lineup: Like the previous version, the 2013 Malibu is offered in LS, LT, and LTZ trim levels, all with new interiors seemingly inspired by the Camaro. My test vehicle was the new Malibu ECO 2SA.
Walkaround: The exterior design is similar to the 2012 model in the front, but features entirely new rear-end styling that showcases very prominent taillights and an integrated deck lid spoiler similar to the Camaro coupe.
Like its sibling, the Chevy Volt, the 2013 Malibu offers active shutters in the grille that open and close to improve highway mileage by corresponding with vehicle speed and engine cooling needs.
The new Malibu has a 3-inch wider stance than the previous model, which means more interior space for the driver, passengers and cargo, including 1.5 more front and 3.5 more rear inches of shoulder room, plus 2.7 inches of additional front hip room, and 2.8 inches more rear hip room. The total interior volume — using EPA standards — is 4 cubic feet larger than 2012.
The styling changes are quietly bold, with an attractive wheels-at-the-corners look that is substantial, yet clean and crisp, resulting in a smooth-sided, sleek profile with an appealing roofline that could belong on any luxury car.
Interior: Chevrolet's signature dual-cowl dashboard interior is obviously inspired by vintage Corvettes. The design is updated into the 21st century with wood and metallic trim and blue-on-white instrumentation. Overall, it's nicely designed and more spacious than previously, boasting premium, upscale materials, with excellent fit and finish. Chevy claims it's been engineered to be the quietest interior in the midsize segment.
The seats are quite comfortable and offer plenty of front-seat room, along with generous rear legroom. All the controls are easy to operate, although some hard plastic surfaces detract from an otherwise top-quality interior, which is bathed in ice-blue ambient lighting at night.
A new touch-screen display controls the AM/FM/CD/XM Satellite radio, as well as OnStar with Turn-by-Turn navigation, portable and streaming music from Pandora through the new MyLink feature. It also handles other functions, such as the rear-view camera, and a host of new features like lane-departure warning and forward collision alert.
Under The Hood: There are three powertrains offered. The Malibu ECO — which is hybrid — offers a 15KW/15-horse belt-driven, liquid-cooled induction motor/generator unit and lithium-ion battery system in addition to a brand new Ecotec 2.4-liter DOHC In-line four-cylinder, with GM's eAssist. Meanwhile, the LS, LT, and LTZ offer a choice of the 2.5-liter Ecotec engine or a 2.0-liter turbocharged Ecotec that puts 259 ponies to the pavement, with 159 lb. ft. of torque, compared to the 197 horses and 147 lb. ft. on the 2.5. The 2.4 Ecotec in the Malibu ECO is rated at 182 horsepower and 134 lb. ft. of torque. All three powerplants are married to one of two 6-speed, Hydra-Matic transmissions, and utilize all the new technologies including dual overhead cams, four valves per cylinder, high-pressure direct fuel injection, electronically variable valve timing, electronic throttle control, a variable-displacement oil pump and a two-stage electronic thermostat for peak fuel efficiency.
The EPA fuel economy rating for the 2.4-liter ECO is 25/city and 37/highway, while the 2.5-liter is rated at 25/city and 34/highway, and the turbocharged 2.0 comes in at 21/city and 30/highway.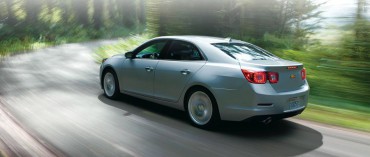 Behind The Wheel: I found the Malibu pleasurable to drive. It's quiet, smooth and comfortable, striking a nice balance between well-controlled handling and an even ride. The Ecotec four-banger delivers acceptable acceleration, but isn't quite as strong as the four-bangers offered by Honda or Nissan. However, the Malibu's six-speed automatic, which increases fuel economy and improves acceleration, brings it up to about par with them.
The Ecotec In-line four also features electric power steering to save drag on the engine, which aids both fuel economy and performance.
Steering is reasonably quick and precise, but has less road feel than I personally prefer — although that's a subjective measurement.
Whines: The steering wheel is a bit too large in diameter for my personal taste and a smaller wheel would give it a sportier feel, but that, too, is somewhat subjective.
Bottom Line: Choosing among the best midsize sedans basically comes down to nitpicking and personal preferences. The 2013 Chevy Malibu offers the size, room, features and conveniences a family sedan requires. Fit and finish inside and out are world-class. Personally, I think the Malibu faces off well against the benchmark Camry and Accord. They may have the edge on resale value, but at $26,845 base price and pretty well loaded at $29,380 as tested, the Malibu offers something Camry and Accord don't — traditional Chevrolet value.